Why Choose Mountain View Pediatric Dentistry
Welcome to Mountain View Pediatric Dentistry! Our mission is to provide a fun, safe and professional environment for your family. We strive to create a positive experience that makes you and your family excited for your next appointment at Mountain View Pediatric Dentistry.
At each of our locations, you will find a fun and friendly environment where each of our doctors, hygienists and dental assistants have a way of making your child feel comfortable and relaxed.
Part of our focus at each visit is to educate your child, in an engaging way, how to care for their teeth. We feel the best kind of dental care is preventative. If your child learns at an early age the importance of oral hygiene, we hope this knowledge will create a lifetime of healthy habits. These healthy habits will help prevent dental problems throughout their lives.
Your child is sure to receive the best care from our team. Our patients look forward to their visits because we have made them feel safe and comfortable during their appointments. As a parent if you are unsure of what to expect, no worries! We will walk you and your child through the entire process and be extremely gentle and understanding the entire visit.
Our dentists do their best to get to know your child individually. They will make sure you and your child understand what procedures are taking place and what to expect before beginning any dental treatment.
We understand that lives and schedules are extremely busy. We have both morning and afternoon appointments available as a way to help accommodate your busy schedules.
First Visit?
Find Your Location
Pleasant View

2719 US-89 Suite #200
Pleasant View, UT 84414

Get Directions →

(801) 737-5437

Farmington

991 Shepard Lane #100
Farmington, UT 84025

Get Directions →

(801) 447-5437

West Haven

4575 Midland Dr
West Haven, UT 84401

Get Directions →

(801)737-5437
Pediatric Dentists in Farmington, West Haven & Pleasant View
At Mountain View Pediatric Dentistry, we focus our efforts on providing the best dental care for your children no matter their situation. Each child has different needs. Some have fears of the dentist while others have specific dental problems that need to be addressed. Our Mountain View team believes in a gentle approach, helping to soothe the fears of each child while delivering the best care.
Whether you are in for your child's six month checkup or coming in to take care of a deeper problem, Dr. Cam, Dr. Jake, Dr. Kimball, Dr. Edee and Dr. Ray can help ease the process by choosing the best treatment. Our priority is to help kids look forward to coming to our office at any age and help them to get the treatment they need. Your child won't feel the all too common fear of the dentist when visiting our office. Instead, our kid friendly waiting room complete with a fish tank can help take your mind off the process.
With three great locations in Pleasant View, Farmington and West Haven, our staff is ready to take on any of your child's dental needs. Before treating, diagnosing, or making a decision pertaining to your child's teeth, we stop and ask ourselves, "What would we do if this were my child needing the treatment?" With this in mind, each child who visits or office is able to get the best care possible. Specializing in pediatric dentistry, we know just how important it is to get the care needed at a young age.
As pediatric dentists, we have all the tools for patients ranging from infants to teenagers. We can deliver the specific treatments that are needed at any age of this development, ensuring teeth and gums are both healthy. If your child is in need of orthodontics or other advanced dental work, we can effectively detect this early and refer you to a trusted specialist if needed.
Let Mountain View Pediatric Dentistry be your pediatric dentist, helping lead your child on the path to good oral health. Our offices are open Monday through Friday; call us directly to schedule your appointment today!
Meet The Doctors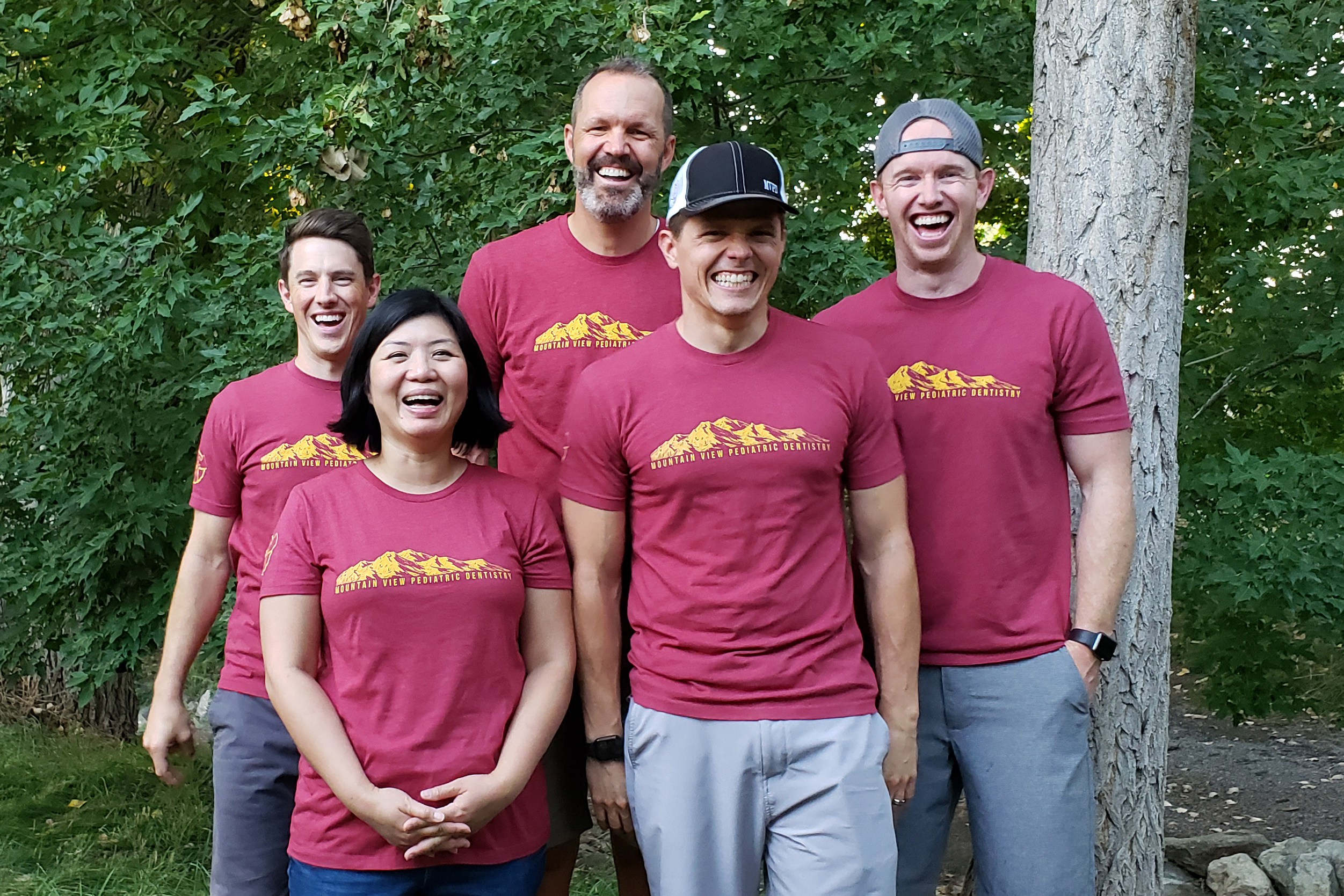 Read More
Infant Exams & Education

Our office wants to help your child get in great habits for the oral routine, starting when they are little. We recommend you bring your child in when they are 12 months old or within 6 months of getting their first tooth. More than checking your child for eruption, symmetry in their mouth, and any abnormalities, we want to educate parents. When you visit our office with your 12 month old, we give you a folder with educational material for your baby's oral health. In the folder, you will find instructions and diagrams for brushing and flossing those little teeth. To learn more about what to expect for an infant exam, click here.

Exams & Cleanings

Getting your child into a good routine of dental cleanings and exams will set them on a path of healthy teeth for the rest of their life. Having dental cleanings and exams that happen routinely helps prevent decay and disease. What happens in the home is important, but professional cleanings will take away plaque that has been mineralized, which may happen even with good brushing and flossing at home. Mountain View Pediatric is one of the very few pediatric dental offices in the area that has a dental hygienist on staff. Your child will receive state-of-the-art treatment from a highly trained pediatric dental assistant or certified hygienist. We recommend your child visit our office once every six months. These appointments typically take 30-60 minutes. Parents are welcome to be with their child during the treatment or wait in the lobby. Click here to read more about this service.

Sedation Dentistry

At Mountain View Pediatric Dentistry, we offer all types of sedation dentistry for our patients. We may recommend using some form of sedation for our patients for a number of reasons: young age, high amounts of treatment needed, fear or anxiety with dental treatment or medical/special needs patients. If your child experiences stress or anxiety which makes them unable to cooperate for the recommended dental treatment, then sedation dentistry may be for them. It will help a frightened child feel more comfortable and to have a good experience with their appointment giving them the confidence they'll need for future dental visits. We offer 4 types of sedation: nitrous oxide (laughing gas), conscious oral sedation, in-office IV sedation and general anesthesia at Mt. Ogden Surgical Center or Primary Children's Medical Center.

Frenotomy

The frenum, which is that small fold of tissue under your tongue or under your upper lip that connects your tongue to the floor of your mouth or your upper lip to your gums, sometimes needs to be released. This procedure is something that our office recommends when the motion of your child's tongue or upper lip is restricted. Sometimes kids can be born with their tongue or lip tied. We want your child to have a better range of motion and will recommend a frenotomy in order to help your child.

Emergency

If your child is experiencing a dental emergency, don't panic! It's important to call our Utah dental offices as soon as possible. We understand how overwhelming and scary it may be. That's why Mountain View Pediatric Dentistry provides same-day and after- hour emergency dental care for existing patients.
Extraction & Space Maintainers

Sometimes it is necessary to pull a tooth prematurely. It may be due to decay, abscess or overcrowding. If a tooth is needing to be extracted prematurely it may require a space maintainer to prevent future issues. If a space maintainer is not placed when needed, the tooth/teeth towards the back of a patients mouth may drift forward, closing the newly created space and making it more difficult for the permanent tooth to erupt in that space when it is time.

White Fillings

All fillings that are completed in our office will be with composite material, more commonly referred to as a white or tooth- colored filling. Other dental offices may offer a choice between the composite filling or an amalgam filling- commonly known as a silver filling, however we have do not offer amalgam fillings as an option. Some insurances may cover composite fillings and some may "downgrade" them, meaning they will only pay for the amalgam and the patient may have a higher co-payment if a composite filling is completed. All insurance plans are different, we recommend you contact your insurance to find out if your plan covers composite or if they downgrade and pay based on the amalgam fees.

Crowns

In our office we offer three different types of crowns: stainless steel crowns, stainless steel crown with a white facing and an all white zirconium crowns. Crowns are used on teeth with excessive decay that cannot be restored using a filling or if all or part of the nerve of the tooth is removed, known as a pulpotomy. If a pulpotomy is completed, the remaining portion of the tooth is very fragile and placing a simple filling is not an option as it leaves the tooth week and more likely to crack or break. A crown helps to cover the remaining portion of the tooth and keeps it strong. We are happy to answer any questions you may have about a crown on your child's tooth. Feel free to read more information here, or give us a call at the office.

Pulpotomy

A pulpotomy is also known as a baby root canal. This may sound extreme, but it is a common procedure for teeth where the decay has reached the nerve of the tooth. When this happens, a portion of the tooth nerve needs to be removed to keep the tooth clean and give it a higher chance of lasting until the permanent tooth erupts.

Sealants

Often times when permanent molars erupt, they have deep pits and grooves on their chewing surfaces that can carry bacteria and make a tooth more prone to a cavity. At Mountain View Pediatric Dentistry we can apply a thin layer of sealant material to those grooves and help prevent future decay and cavities.
Introducing Our New Pediatric Dentist Office in West Haven Utah
January 12, 2023
We are excited to announce the opening of our new pediatric dentist office in West Haven, Utah! In April 2023,  this will be our third location after Pleasant View and Farmington. Our office is dedic ...
> Read More
Prizes
Every time your child comes to visit us for an appointment, your child will be given a prize. This is a special reward for cooperating and trying their best while at their appointment and hopefully makes it something to look forward to, rather than something to be nervous about. Each month, there is also a dress-up theme. If your child comes dressed in the monthly theme attire, they will also receive an extra prize at their appointment.
Why Choose Mountain View Pediatric Dentistry
As a parent, you always want the best for your child. When it comes to your child's oral care, our office is the best in the area. We are a friendly and family-oriented office where we strive to practice kindness, patience, and fun with each of our patients and giving careful care and attention to them. Our staff is very helpful in placing your child at ease and giving careful care to them. In addition to the type of care your child will get, we have an array of services available so that you will not have to go anywhere else for your child's dental care. Call us today!